Oasys MassMotion : Pedestrian Simulation Tool
26 July 2021
Likes:&nbsp2
MassMotion is the most flexible software available for simulating pedestrians and analysing crowds. It can predict the movement of hundreds or thousands of individual personalities in a complex 3D environment.
Working with a pedestrian simulation tool like Oasys MassMotion provides clarity on visitor potential behaviours, it allows alterations to an installation in the design stage to predict how visitors pass through. Designs can be optimised for health and safety, avoiding congestion, and most efficient patron circulation. With that in mind, to help visualise and analyse pedestrian behaviour with ParadropVR, we called upon Oasys to advise us on how to configure the ParadropVR units. The units are modular, they can be configured in circles, multi-storey or in space-limited areas therefore the optimal configuration will depend on pedestrian traffic flow and will vary with each location. The MassMotion software takes into account load, journey and exit times, and will provide data, demonstrating how best to manage space around ParadropVR.
Take a look at this video to see MassMotion in action around a ParadropVR attraction. It shows people moving through the ParadropVR queue system safely, whilst still ensuring efficient throughput.
Image : Oasys Massmotion with COVID-Secure proximity modelling
ParadropVR has been in market since 2017, installed in 9 destinations around the world and the business model has a proven revenue generating throughput. Using the MassMotion software allows our clients to benefit from a revenue calculator which is used as a tool to help forecast likely utilisation and revenue generated, based on footfall, ticket price and installation location.
Matt Wells, co-founder at Frontgrid, said: "The MassMotion modelling further validates our predicted throughputs in a visual way showing clients how it is achievable. This is vital for the commerciality of the experience, as we can calculate the likely throughput for each venue and therefore the likely financial return on that basis."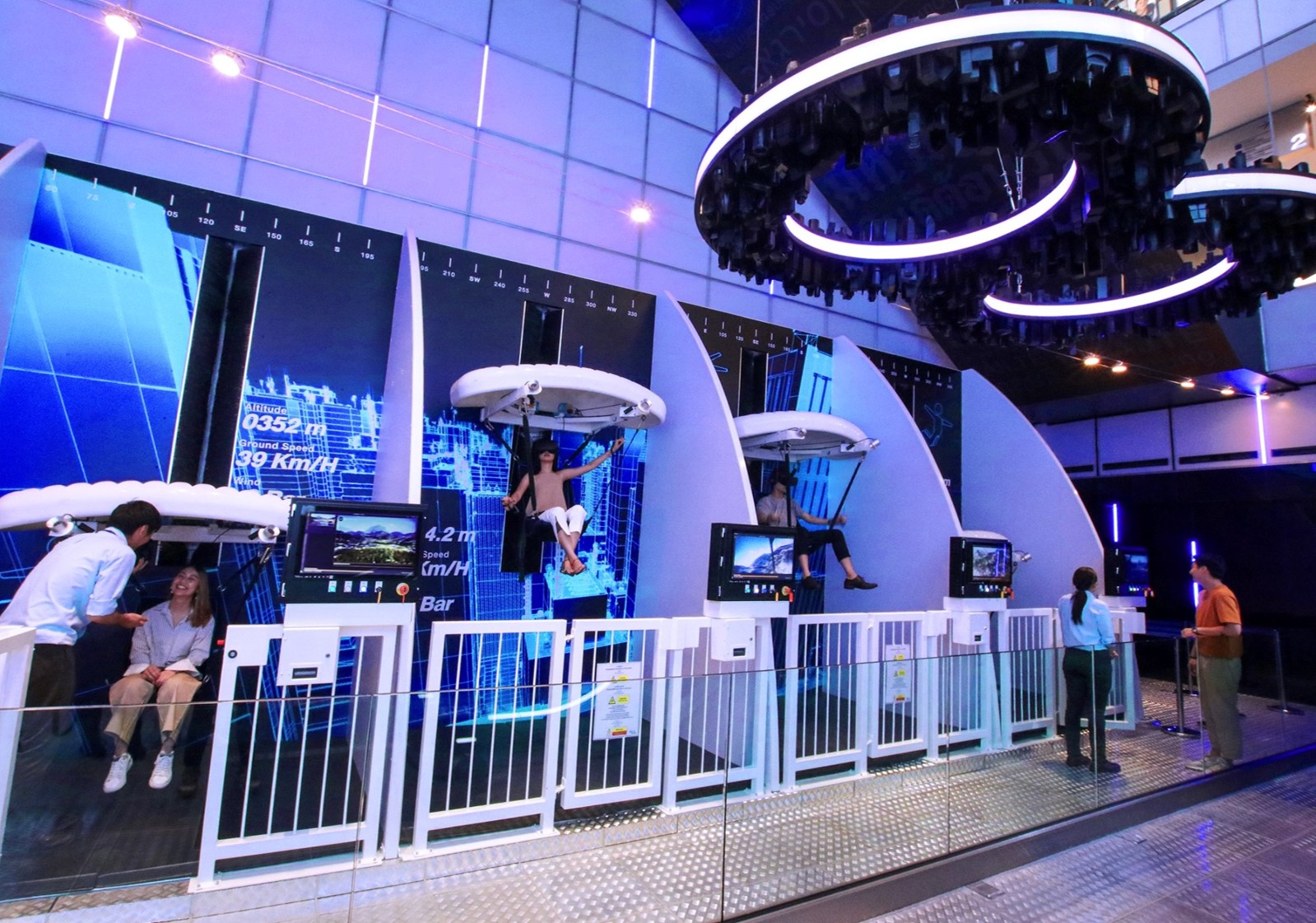 The public have adjusted to life under lockdown, and expectations of what a safe and efficient queue flow management should look like have heightened. Tourist attractions have adapted to the times, and installed measures that will still allow them to have a great experience, with minimal waiting times and maximum safety. We're excited to be able to add proximity modelling tools to help our clients engineer safe social distancing and manage phased reopening safely.
To find out more about ParadropVR at your location you can 'get in touch' through our website.