ParadropVR opens at the RAF Museum Midlands, UK – a futuristic addition
29 August 2022
Likes:&nbsp1
ParadropVR, a journey flying under canopy in virtual reality has been launched at the Midland's site of the museum, as part of their ' Flight Zone' offering.
The installation includes motion-based hardware, called ParadropVR Rize, to create the sensation of flying under a parachute canopy, supported by the use of compressed air, which helps to give a further feeling of accelerating through the sky as the air rushes by.
This is combined and finely tuned with virtual reality environments that participants can explore , just as if they were part of the display team, with rings in the sky to fly through that score you points along the way.
Matt Wells, CEO, and co-founder of Frontgrid, the creators of ParadropVR said: "I started my career as a para in the British Army, so that experience was very much part of the inspiration of inventing ParadropVR. So I'm particularly proud to see it feature in one of the greatest military museums in the world. ParadropVR has been created to replicate the sensation of flying under canopy, and its easy to use controls mean that it is accessible to almost everyone."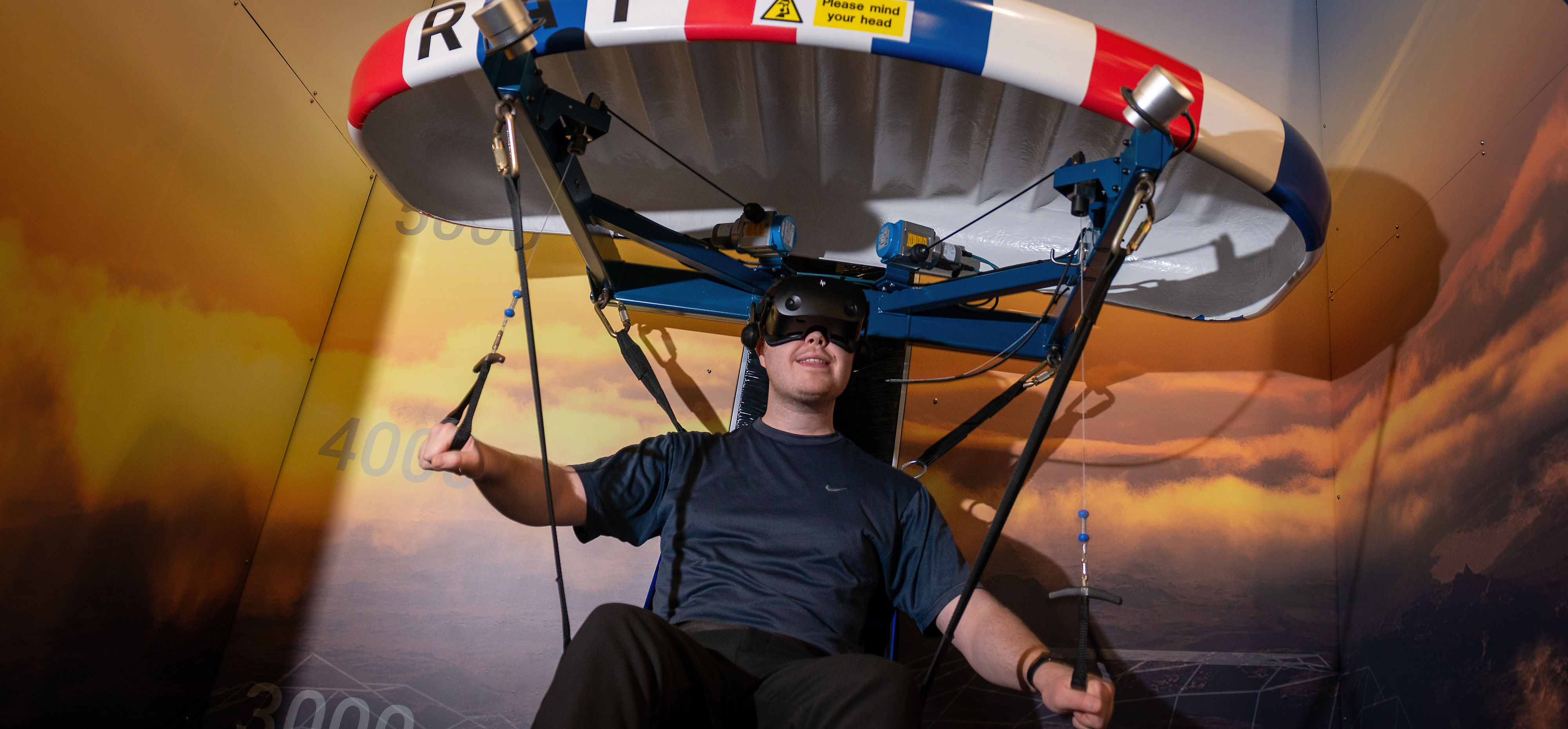 Barry Smith, Director of Visitor and Commercial Development, at the RAF Museum said: "We are really excited to have the installation of Paradrop VR as part of our offering, allowing visitors to feel what it would be like to parachute. We see attractions such as ParadropVR playing an important role in education and learning in the future, as it uses new technologies to deliver realistic RAF inspired experiences to our visitors. It will form part of our new Flight Zone, where visitors can also enjoy a range of virtual flying experiences.
The RAF Museum has two sites, one in London and one in the West Midlands. They are targeted at being a fun family day out and what is great is they are also free.
The museum installed ParadropVR in celebration of the Falcon's parachute display team, which celebrated its 60thyear in 2021. They are the UK's premier military parachute display team, based at RAF Brize Norton, Oxfordshire, and they display at venues all over Britain and Europe throughout the year. They have set records and introduced many exciting innovations into formation skydiving.
Matt Wells said: "Not long after we launched ParadropVR in 2017, we actually invited the Red Devils, the British Army parachute display team to come and give it a go. They really enjoyed it and said that they were surprised at how like the real thing it felt!"
"We have 5 existing games on ParadropVR Rize, all featuring at the RAF Museum, they include exploring environments ranging from the desert, to the mountains to outer space. They are a great addition to a museum experience – offering visitors something different which has a high perceived value. Whilst allowing a quick throughput, making it suitable for busy and quieter times."
Those that want to try the experience should visit www.rafmuseum.org to book their tickets. To find out more about purchasing ParadropVR and custom content to have at your location please visit www.frontgrid.co.uk.