Come Fly Snowdon!
17 August 2022
Likes:&nbsp1
Visitors to Snowdonia National Park will be able to experience the area and connect with it in a new way, leading the way in adventure innovation.
Fly Snowdon, developed by Frontgrid the adventure innovation specialist has opened to the public, pioneering the benefits that virtual tourism can bring to real world places.
Fly Snowdon consists of 3 games exploring the mountains of N Wales, which adds to the existing game series of ParadropVR, a journey flying under canopy in VR.
Matt Wells, CEO of Frontgrid, said: "ParadropVR is now in 11 countries worldwide and counting. The opening of Fly Snowdon is particularly meaningful for us on three counts.
Firstly, we are proud to be leading the way in creating custom VR content inspired by real world destinations. We are innovating what "tourism" and "experience" means.
Secondly because the content is meaningful. It looks to balance entertainment with a touch of positive learning – hoping to influence action in the real world not just within the game.
And thirdly, the Frontgrid head office is based locally near Conwy in North Wales, it is fantastic to have the installation on our doorstep at the most perfect location at Adventure Parc Snowdonia, celebrating an environment we are all truly passionate about."
The three games that make up the Fly Snowdon series all have different learning outcomes. 'Snowdon Navigator' looks to orientate people in the environment and allows them to experience it in a totally new way, exploring the destination from the Sky. 'Snowdon by Night' highlights the beauty of the area at night, with the National Park being one of the UK's Dark Skies Reserves, teaching people about the constellations and ways to consider reducing light pollution. 'Snowdon Peak Challenge', encourages flyers to explore the three mountain ranges, showing that Snowdonia National Park is not just about Mt Snowdon itself and looking to inspire people to visit other parts of the park.
Andy Ainscough, owner and Director of Adventure Parc Snowdonia said: "It's really exciting to launch Fly Snowdon here. Everything at Adventure Parc Snowdonia is geared to innovation in adventure and experience, so Fly Snowdon fits well within our offering.
"It's a completely new way to experience Snowdonia for families, school groups and corporate events. It is a spectacle to watch as well as participate in and as you collect points along the way ParadropVR is great for what is called within the industry 'competitive socialising'.
Visitors can either try it as a one off as part of their day with us, or buy a few flights and look to better their VR flying skills and scores and discover more things in their environment."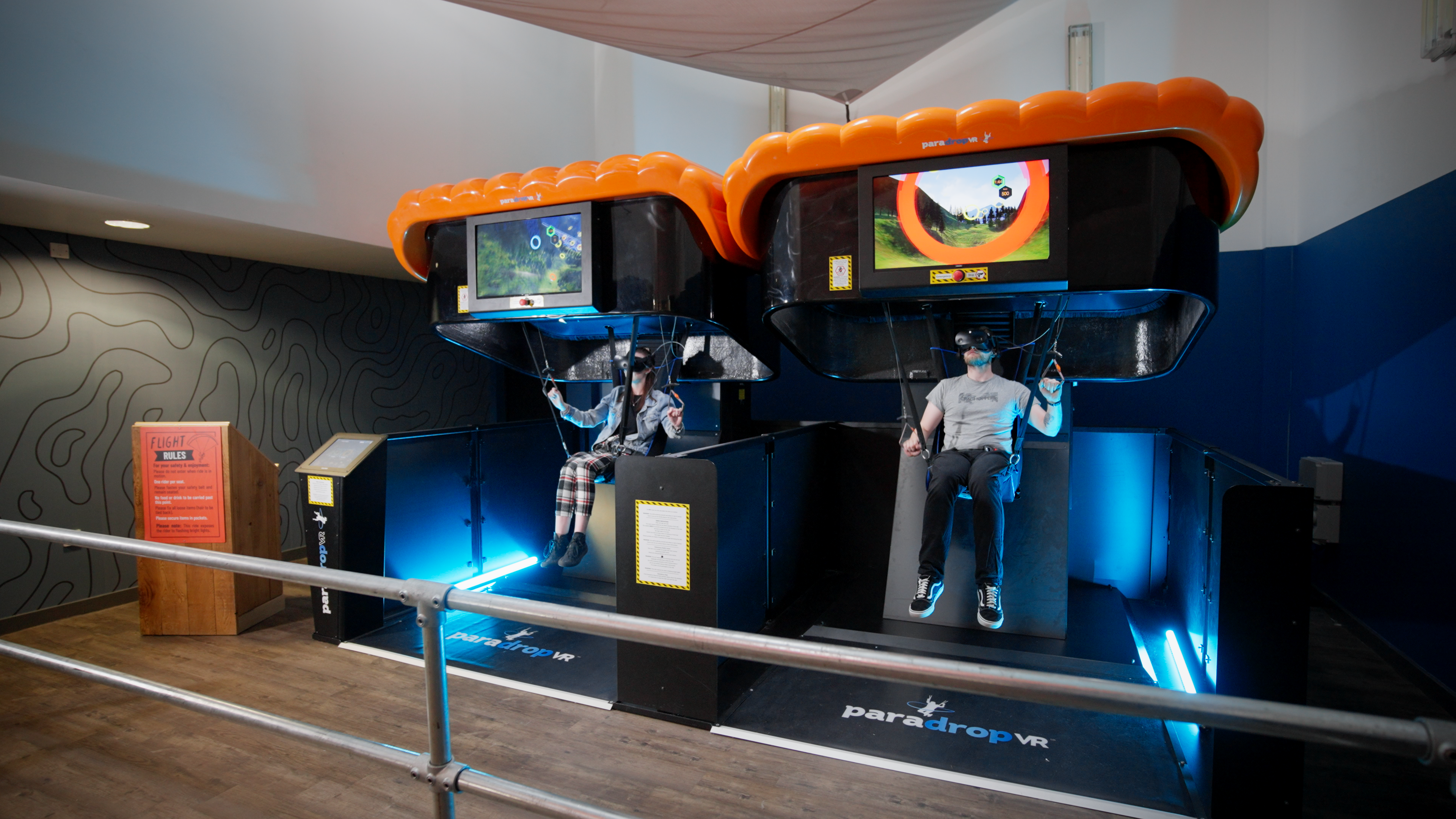 The Fly Snowdon games were the output of a research project conducted by Frontgrid and supported and funded by Clwster, looking to put innovation at the centre of Media production in Wales and funded as part of the UK government's Industry strategy and Creative Industries Clusters programme.
The research project was entitled "Creating a Virtual Paradigm – a new way of looking at things" and looked at the research question – "how can virtual reality be used to connect people with real world places".
Using Snowdonia National Park as the test bed, Frontgrid built the topographical replica of Snowdonia in VR, using existing data and 3D models and using the games engine Unreal Engine to enhance the experience, adding a host of details ranging from for example reflections on lakes, the heights of mountains, rings to fly through, constellations and things that fly past you.
Frontgrid's Business Development Director, Tammy Owens, who co-ordinated the project said: "Virtual reality allows you to add another layer of imagination onto a place. If you can imagine it, in VR you can make it happen. It simply is a new channel for storytelling and education. Our experiences are predominantly focused on entertainment. However, whilst we have people's captive attention, we wanted to also capitalise on trying to create positive impacts and behaviour changes in the real world where we can. As an industry we are bad at that, we see a real opportunity to carve out a role for meaningful entertainment. If you can connect a person to a place and teach them about it, they are more likely to find out more about it and subsequently look after it."
ParadropVR combines motion based engineering and virtual reality environments to create sensational experiences. Matt Wells, the co-founder of Frontgrid and co-inventor of ParadropVR, is a specialist in real world adventure as well as virtual. A former para in the British Army, he also set up an expedition company for young people to go on expedition to take part in community and environmental project work as well as adventure activities. He said: "Experiential learning in the real world translates to experiential learning in VR. If you can feel it, see it, interact with it, it can be a much more impactful experience than just for example reading about it in a text book. Fly Snowdon also has accessibility benefits, in that most people can't actually experience jumping off a mountain under a canopy and exploring a location from the sky. It is a totally different way of looking at a place."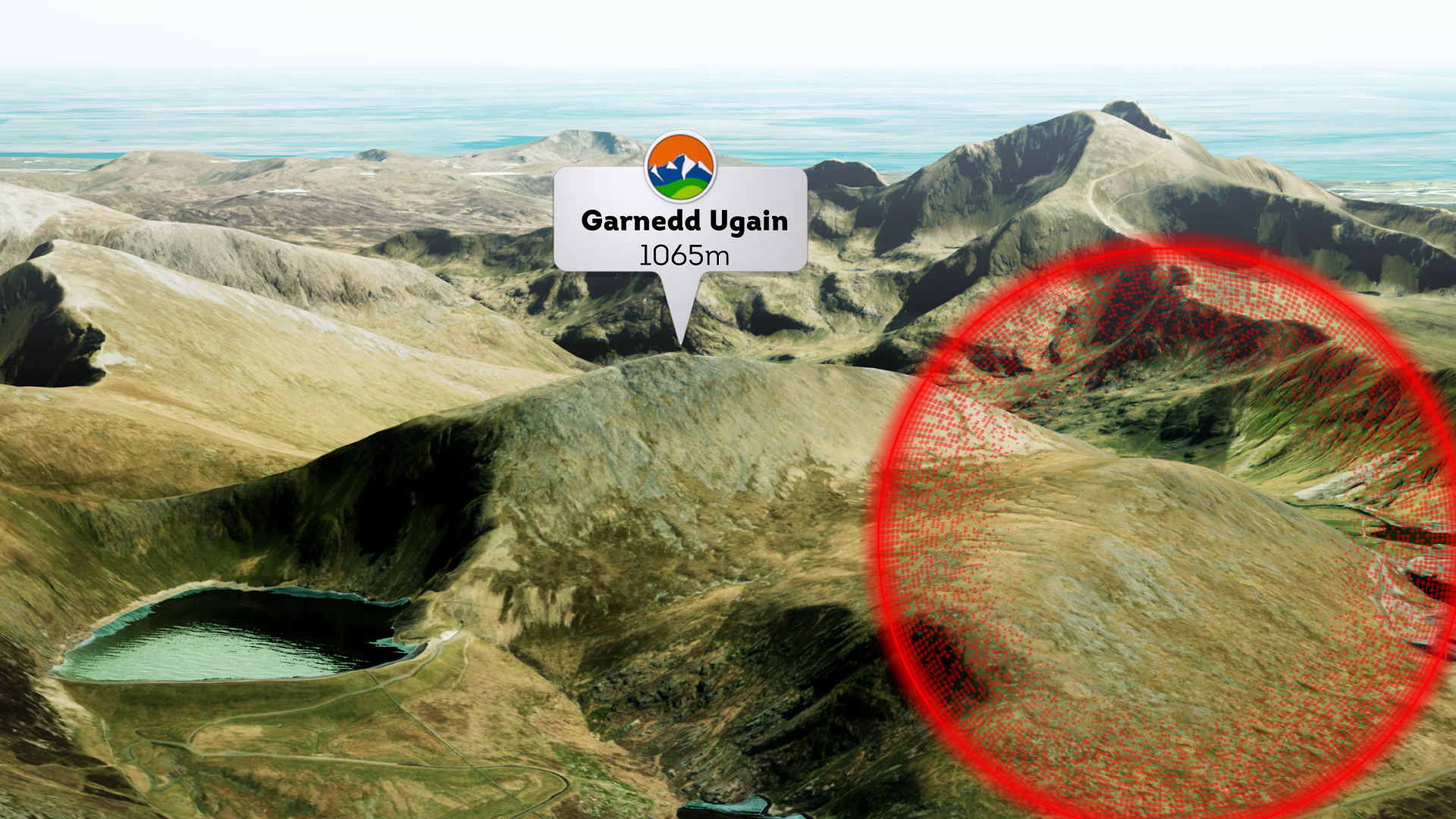 The games are run on a piece of hardware called ParadropVR Pod which uses motion to support the sensation of flying. It is multiplayer, which allows people to fly and explore an environment together. As well as compete against each other as part of a global online league.
Matt Wells said: "This is the second location based flying experience we have opened. The first being in 2018 at the Mahanannakhon Tower, the tallest tower in Bangkok. The experience there is that you go up to the top of the tower and experience the real-world view. Then you can try our installation and experience 'what it would be like if you jumped off the tower and flew over the city'."
Adventure Parc Snowdonia attracts more than 150,000 tourists and locals a year to take part in the modern take on adventure activities - ranging from an artificial surf wave to an indoor aerial assault course.
Those that want to try the experience should visit www.adventureparcsnowdonia.com to book their tickets.
--------
To find out more about purchasing ParadropVR and custom content to have at your location please contact Tammy Owens, Business Development Director on tao@front-grid.co.uk